Blog Details
Top Kitchen Interior Designing Trends in this year that can't go wrong
Kitchen is said to be the heart and soul of a home. The kitchen has now become more a living and breathing space, than just a space for cooking. Packed with energy and life, the kitchen has become a space to hang out and catch up with your loved ones. So you should be really careful while choosing an interior style for the kitchen which should be trendy as well as it should add value to your life and home. In addition to that, make choices that will last forever while designing your kitchen. Have a look at the top kitchen interior designing trends that you can go for during this year.
Smart Kitchens are overruling
Smart Kitchens are the cutting-edge for a trendy kitchen with the interior designing point of view. Many kitchen's today are built smart and are the favoured choice of many people. For the older kitchens', sensors, smart appliances and fully controlled other devices can be added to make them smarter.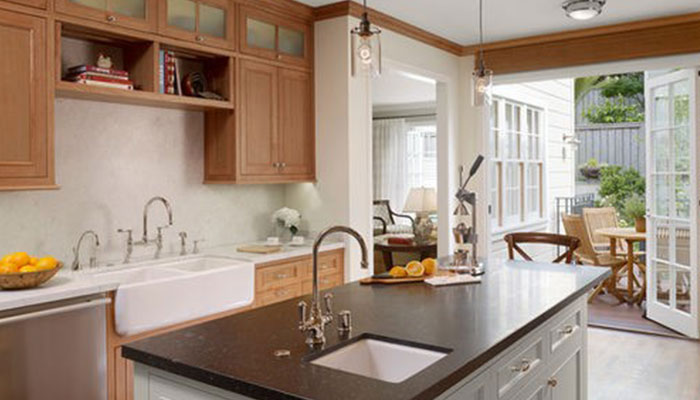 Large & Integrated Cabinets
Modern cabinets look very simple with smooth edge profiles and with the simplest of design essentials. Neutral look without demanding too much attention is perfect for modern styled kitchen and it can complement well with other components like countertop and the backsplash. Also stacked upper cabinets are preferred interior designing trends in this year and for the further coming years. Corner cabinets allow to hang utensils and pans using adjustable hanging hooks and it is a great way for a storage solution in the corner. Drawers and cabinets turn into a storage space for keeping things in an organized way. Not only does this element of design add additional storage space, but also it delivers the look of stateliness to the kitchen.
It's becoming increasingly popular to integrate appliances into the design of a kitchen to add beauty and functionality. Also, it's important to ensure that kitchen appliances such as fridge, food processors, and microwaves don't take over the aesthetic of your kitchen and by this it will help your kitchen not look too messy. Choosing small appliances are becoming prevalent. Wisely considering the placement of appliances, lighting, productivity and storage capacity are becoming increasingly important when it comes to kitchen design. So cabinets are a great way to maximise storage as it provides a functional display space to keep kitchenware and is perfect for smaller kitchen spaces.
The LED Lighting trend has never faded away till yet and it improves the overall ambiance. Top lighting placements in kitchen cabinets include inside base cabinetry, under upper cabinets, on top of the upper cabinets and cabinet interiors.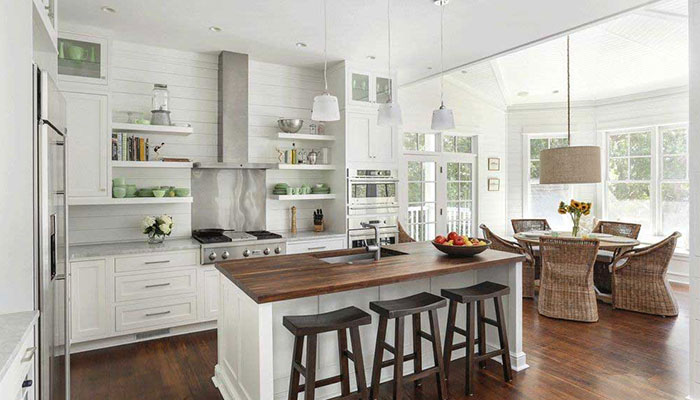 Colors for an impeccable trendy Kitchen
For cabinetry, homeowners are favouring customized colors that perfectly fit their kitchen spaces. But still, neutral colors are currently the latest preferences with tones of grey, cream beige and soft greens getting extremely popular. It can give your kitchen a modern style, perfectly complementing other existing elements in the kitchen. With that painted metals and the soft glow of metal alloys for the handle and faucets are luxurious and beautiful kitchen trends seen this year. The modern colors for kitchen vary in a wide range of warm shades and cool tones, from the mysterious black to bright yellow and majestic bronze. Also exquisite floral décor, leafy greens and plants bring life to your kitchen space and is a great way to bring the outdoors inside adding an organic touch to your kitchen space.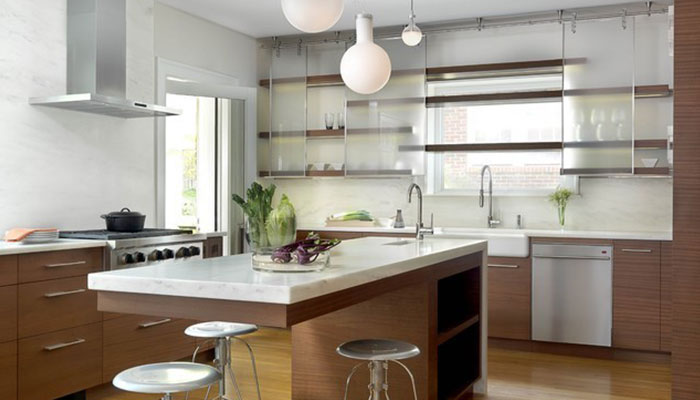 Trendy Countertops for your Kitchen
Quartz is the toughest countertop material, which resists scratches, burns, damages and is the favoured choice for the busy kitchen.
Kitchen trends change and remember to follow the best design that will last for longer. Always consult the best Interior Designing Company or seek the advice from the best interior designers.
Enter your email below to join our newsletter of awesomeness